Why do I need dual monitors, and what are the top 10 best monitors on the market today?
Why Do I Need a Large Monitor?
A large monitor helps reduce my strain. At the end of a long day or if I'm really tired, eye stain, squinting, or whatever you want to call it becomes a problem and it won't get any better when you've been doing this year after year.
My productivity increases when I have a larger area to work with. I don't have to open and close tabs, rather I can resize the windows so they are all open on one large monitor or on multiple monitors.
Another advantage is you can view a full page of a document rather than scrolling down to see the rest of it.
Oh, and the most important aspect of a large monitor is you feel like you're almost in the game when the monitor takes up most of the viewing space in front of you. I know…..that's important, right?
Why Do I Need Dual Monitors?
Dual monitors are more important for those of us who work on multiple software programs at the same time. You may be viewing one document, typing on another, and creating images or a video on another screen. I know personally as an engineer that I will have at least four software programs open at one time and one large screen is not as big as three large screens side by side.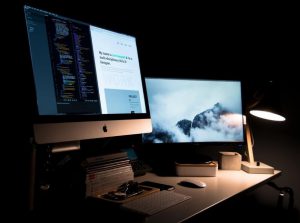 Here are some additional reason to have dual monitors:
Cutting & pasting more easily
Video editing
Comparing products
Using more than one software at a time
Here's an example for you. I will have my graphics and design software open on my left screen. I will have excel open on my middle screen where I am crunching some numbers or entering data. My right screen is normally reserved for viewing a PDF of older plans or as-built plans. I will then have my email open as I am constantly receiving emails. I also need my explorer window(s) open plus I need access to the internet as many of my clients and design standards are now on the internet.
It actually sounds like I need five or six screens. It really gets irritating when I am trying to work fast but I have to slow down and minimize a tab or expand a tab because I don't have enough viewing area on my three monitors. See my home and corporate workstations below.
Home Workstation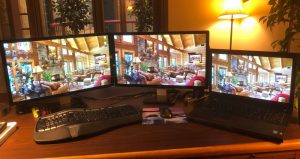 Corporate Workstation
Now that I have shown you how important large and multiple monitors can be, it's time to list them for you.
What are Some of  the Best Monitors for Today?
Let's get real for a few minutes here.
I checked the reviews of 8 respected online companies for their top monitor choices and they were all over the board. Evidently, they all have things that are of different importance to them and their testing procedures are weighted differently because there were no clear leaders, or there are so many models they are testing, that a specific monitor hardly showed up on all eight of these reviews.
So, I am going to list the manufacturers that showed up the most and then list the monitor model numbers below them. We all have specific needs, so I am going to point you in the right direction, however, it will be your responsibility to find the best fit for you.
These monitors are in no particular order other than the ones that showed up in the reviews the most are listed higher in the list.
Sale
ASUS VG248QE 24" Full HD 1920x1080 144Hz 1ms HDMI Gaming Monitor
Ultra smooth action with 144 Hertz rapid refresh rate and 1ms (GTG) response time; Display Colors 16.7M; Color Temperature Selection 4 Modes
Ergonomically designed stand with Tilt,Swivel,Pivot,Height adjustment plus wall mount capability for comfortable viewing position
A comfortable viewing experience with ergonomic tilt, swivel pivot, and height adjustment
Built in 2W stereo speakers for an immersive home entertainment experience; Compliance and Standards BSMI, CB, CCC, CE, C Tick, ErP, FCC, Gost R, J MOSS, PSE, RoHS, UL/cUL, VCCI, WEEE, WHQL (Windows 8, Windows 7)
Featuring Display Port, Dual link DVI D, and HDMI ports for multi device connections
Full HD 1920x1080, 80,000,000:1 ASUS Smart Contrast Ratio, and 350 cd/m² of brightness for like like visuals
Sale
Dell E Series 23-Inch Screen LED-lit Monitor (Dell E2318Hx),Black
Affordable and reliable 23" IPS monitor with wide viewing angle and essential Features that Drive productivity
Get consistent colors across a wide viewing angle, enabled by In-plane switching technology on a 23" full HD screen
Optimize eye comfort with a flicker-free screen and comfort view feature which minimizes Blue light emission
Compatible with most legacy and current PCs via VGA and HDMI connectivity (Ports vary depending on models). Compatibility- All Operating System
Flexibility to configure with Dell mounts and stands options for evolving office requirements.Refresh Rate:60 Hz
Sale
LG 24M47VQ 24-Inch LED-lit Monitor
2 ms Response Time. If using a wired connection, plug the Ethernet cable from your modem/router to the input on your chromebase
1920 x 1080 Full HD Resolution.OS Compatibility-Windows 8
HDMI, D-Sub, DVI-D
Reader Mode. Tn panel type
Screen Split. Has color wizard
Sale
BenQ 24 Inch IPS Monitor | 1080P | Proprietary Eye-Care Tech | Ultra-Slim Bezel | Adaptive Brightness for Image Quality | Speakers | GW2480
24 inch Full HD 1080P IPS panel: 23. 8" Full HD IPS widescreen with 1920x1080 resolution, 250 nits of brightness, built-in speakers
Wide viewing angle: 178° wide viewing angle for Clarity from any viewing angle
Edge to edge slim bezel design: ultra-slim bezel for virtually seamless multi-panel configurations for extended view, space-saving base, elegant design for home office
Patented Eye-Care for extended use: Proprietary brightness Intelligence Adaptive technology adjusts brightness for comfortable viewing, low Blue light and zeroflicker technology prevent headaches and eye strain. This eye Tech delivers optimized images that are easy on your eyes.
Integrated cable management system: neatly hides cables inside monitor stand; VESA wall mount: 100x100 (mm)
Sale
AOC C24G1 24" Curved Frameless Gaming Monitor, FHD 1080p, 1500R VA panel, 1ms 144Hz, FreeSync, Height adjustable, VESA, 3-Year Zero Dead Pixels
AOC Gaming 24" Class, 23. 6" Viewable AOC Gaming monitor with 1920 x 1080 Full HD resolution
1500R curved monitor (VA panel) wrapping around your vision for an immersive gaming experience
Rapid 1ms (MPRT) response and 144Hz refresh rate with AMD Free Sync for smoothest competitive game play
3-Sided frameless design with ultra-narrow borders for the ultimate multi-monitor setup
Height adjustable stand for optimum ergonomics
Re-spawned: 3-year zero-bright-dot, 3-year advance replacement, 1-year (one-time) accidental damage
Sale
Samsung LC27F398FWNXZA Samsung C27F398 27 Inch Curved LED Monitor
Industry leading 1800R screen curvature for immersive viewing
Slim design with high glossy black finish and innovative T shaped stand
Rapid 4ms response time for a clear picture during fast moving scenes
Color gamut (NTSC 1976): 72 percent, brightness minimum : 200cd/m2; Windows Compatible : Windows 10. Outputs: Audio / Headphone (3.5millimeter)
Product Dimensions Without Stand :24.5inch x 14.5 inch x 3.2 inch ;With Stand :24.5 inch x 18.4 inch x 9.6 inch
Refresh Rate is 60 Hertz
HP VH240a 23.8-inch Full HD 1080p IPS LED Monitor with Built-in Speakers and VESA Mounting, Rotating Portrait & Landscape, Tilt, and HDMI & VGA Ports (1KL30AA) - Black
RESOLUTION & PANEL — 23.8-inch Full HD monitor (1920 x 1080p @ 60 Hz) with 16:9 aspect ratio and an anti-glare matte IPS LED-backlit panel (2 million pixels, 16.7 million colors)
RESPONSE TIME — 5ms with overdrive for a smooth picture that looks crisp and fluid without motion blur
BUILT-IN SPEAKERS — Integrated audio speakers provide great sound for your content (2 watts per channel)
THIN BEZEL-LESS FRAME — A thin and virtually frameless ultra-widescreen monitor provides a seamless multi-monitor set-up with 3-sided narrow bezels
4-WAY ERGONOMIC VIEWING — 90° rotation for horizontal (landscape) and vertical (portrait) viewing modes, adjustable height and tilt (-5° to 30°), and 178° positional viewing for the best quality at any angle
VESA MOUNTING — Mount the display on walls or brackets with a 100m VESA mounting pattern (mounting bracket not included)
ViewSonic VA2246M-LED 22 Inch Full HD 1080p LED Monitor with DVI and VGA Inputs
GREAT FOR HOME AND OFFICE: An ideal all-around display for desktop, or laptop
SEE THE DIFFERENCE: Razor-sharp clarity and detail with Full HD (1920x1080p) resolution; Static Contrast Ratio: 1,000:1
MAXIMIZED COLOR & CONTRAST: MEGA Dynamic Contrast Ratio delivers sharp, crisp images
FLEXIBLE CONNECTIVITY: The VA2246M-LED supports laptops, PCs, Macs, and POS systems with DVI-D, and VGA inputs
INDUSTRY-LEADING WARRANTY: 3-year coverage with access to our US-based customer service team
INCLUDED IN THE BOX: LCD Monitor, Power Cable, Video Cable, and Audio Cable
Sale
Sale
Conclusion
This is a challenging topic to cover since the same monitor will have different model numbers. For example, Best Buy will have a monitor that is identical to one at Walmart but they will have slightly different model numbers, plus many times you will be comparing a new model to last years model.
On top of that confusion, everyone seems to have different monitors in their top recommendations. I wish I could tell you which monitors were the definite top 10 but I cannot honestly do that. I can tell you that I use the Dell UltraSharp U2414H monitors in three separate locations. That's a total of six monitors. I have two at my corporate office, two at my home office, and two at a colleague's office. I am a big fan of Dell but others would sharply disagree with me.
The bottom line is there are many great options on the market today and some of them I'm wishing I had right now. I'm particularly eyeing the 34-Inch curved monitors. This may be the latest fad that you need to sit out on or wait to make sure there is a valid reason to switch over to them.
I hope I have helped you to see all the options out there today. Now you have a little more knowledge to begin your search. Enjoy shopping.
Please a Comment Below with your thoughts or opinions or send me an Email.
Return to Home Page
Bestseller No. 1
Bestseller No. 2
HP VH240a 23.8-inch Full HD 1080p IPS LED Monitor with Built-in Speakers and VESA Mounting, Rotating Portrait & Landscape, Tilt, and HDMI & VGA Ports (1KL30AA) - Black
RESOLUTION & PANEL — 23.8-inch Full HD monitor (1920 x 1080p @ 60 Hz) with 16:9 aspect ratio and an anti-glare matte IPS LED-backlit panel (2 million pixels, 16.7 million colors)
RESPONSE TIME — 5ms with overdrive for a smooth picture that looks crisp and fluid without motion blur
BUILT-IN SPEAKERS — Integrated audio speakers provide great sound for your content (2 watts per channel)
THIN BEZEL-LESS FRAME — A thin and virtually frameless ultra-widescreen monitor provides a seamless multi-monitor set-up with 3-sided narrow bezels
4-WAY ERGONOMIC VIEWING — 90° rotation for horizontal (landscape) and vertical (portrait) viewing modes, adjustable height and tilt (-5° to 30°), and 178° positional viewing for the best quality at any angle
VESA MOUNTING — Mount the display on walls or brackets with a 100m VESA mounting pattern (mounting bracket not included)
Sale
Bestseller No. 3
Acer R240HY bidx 23.8-Inch IPS HDMI DVI VGA (1920 x 1080) Widescreen Monitor
23. 8" Full HD IPS widescreen with 1920 x 1080 resolution
Response time: 4ms, refresh rate: 60Hz, Pixel Pitch: 0. 2745mm. 178 degree wide viewing angle, display colors: 16. 7M
The Zero Frame design provides maximum visibility of the screen from edge to edge.
Signal inputs: 1 x HDMI, 1 x DVI (withHDCP) & 1 x VGA. Does not support HDCP 2. 2, the version This monitor supports is HDCP 1. 4
No picture visible using the OSD menu, adjust brightness and contrast to maximum or reset to their default settings. Brightness is 250 nit. Operating power consumption (energy Star): 25 W
Bestseller No. 4
Sale
Bestseller No. 5