Why do I need dual monitors, and what are the top 10 best monitors on the market today?
Why Do I Need a Large Monitor?
A large monitor helps reduce my strain. At the end of a long day or if I'm really tired, eye stain, squinting, or whatever you want to call it becomes a problem and it won't get any better when you've been doing this year after year.
My productivity increases when I have a larger area to work with. I don't have to open and close tabs, rather I can resize the windows so they are all open on one large monitor or on multiple monitors.
Another advantage is you can view a full page of a document rather than scrolling down to see the rest of it.
Oh, and the most important aspect of a large monitor is you feel like you're almost in the game when the monitor takes up most of the viewing space in front of you. I know…..that's important, right?
Why Do I Need Dual Monitors?
Dual monitors are more important for those of us who work on multiple software programs at the same time. You may be viewing one document, typing on another, and creating images or a video on another screen. I know personally as an engineer that I will have at least four software programs open at one time and one large screen is not as big as three large screens side by side.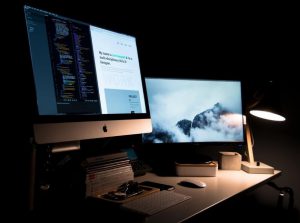 Here are some additional reason to have dual monitors:
Cutting & pasting more easily
Video editing
Comparing products
Using more than one software at a time
Here's an example for you. I will have my graphics and design software open on my left screen. I will have excel open on my middle screen where I am crunching some numbers or entering data. My right screen is normally reserved for viewing a PDF of older plans or as-built plans. I will then have my email open as I am constantly receiving emails. I also need my explorer window(s) open plus I need access to the internet as many of my clients and design standards are now on the internet.
It actually sounds like I need five or six screens. It really gets irritating when I am trying to work fast but I have to slow down and minimize a tab or expand a tab because I don't have enough viewing area on my three monitors. See my home and corporate workstations below.
Home Workstation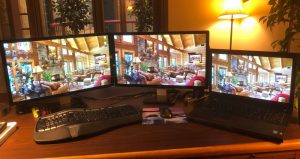 Corporate Workstation
Now that I have shown you how important large and multiple monitors can be, it's time to list them for you.
What are Some of  the Best Monitors for Today?
Let's get real for a few minutes here.
I checked the reviews of 8 respected online companies for their top monitor choices and they were all over the board. Evidently, they all have things that are of different importance to them and their testing procedures are weighted differently because there were no clear leaders, or there are so many models they are testing, that a specific monitor hardly showed up on all eight of these reviews.
So, I am going to list the manufacturers that showed up the most and then list the monitor model numbers below them. We all have specific needs, so I am going to point you in the right direction, however, it will be your responsibility to find the best fit for you.
These monitors are in no particular order other than the ones that showed up in the reviews the most are listed higher in the list.
[amazon box=B00B2HH7G0,B06Y45V625,B00W95RR32,B07CVL2D2S,B072XCZSSW,B07GD7H18F,B01CX26WIG,B072M34RQC,B00D78QCYK,B07MTRQ6B3,B074JKT894,B072C7TNC5]
Conclusion
This is a challenging topic to cover since the same monitor will have different model numbers. For example, Best Buy will have a monitor that is identical to one at Walmart but they will have slightly different model numbers, plus many times you will be comparing a new model to last years model.
On top of that confusion, everyone seems to have different monitors in their top recommendations. I wish I could tell you which monitors were the definite top 10 but I cannot honestly do that. I can tell you that I use the Dell UltraSharp U2414H monitors in three separate locations. That's a total of six monitors. I have two at my corporate office, two at my home office, and two at a colleague's office. I am a big fan of Dell but others would sharply disagree with me.
The bottom line is there are many great options on the market today and some of them I'm wishing I had right now. I'm particularly eyeing the 34-Inch curved monitors. This may be the latest fad that you need to sit out on or wait to make sure there is a valid reason to switch over to them.
I hope I have helped you to see all the options out there today. Now you have a little more knowledge to begin your search. Enjoy shopping.
Please a Comment Below with your thoughts or opinions or send me an Email.
[aweber listid="5513433″ formid="1411453262″ formtype="webform"]
Return to Home Page
[amazon bestseller=monitor computer items=5]