What is the best blood pressure wrist monitor in 2018? I have pretty much seen all of them on the market and after finishing my research I bought the Omron 7 blood pressure wrist monitor and I am thrilled with it. So, I may have the great fortune of getting to work from home but some times the work stress and lack of sleep gets to me and that's when I turn to my blood pressure monitor.
Product: Omron 7 Series Wrist Blood Pressure Monitor Review
Guarantee: 5 Year Limited Warranty
My Rating: 5 out of 5
I have had a stroke and strokes run in my family so monitoring my blood pressure consistently is critical.
I do see my doctor fairly regularly, about every 6 months, but waiting that long to find out what my blood pressure is will not suffice. There are times when I can feel my blood pressure rising and I need to understand what is happening in order to take action to start lowering it.
I have used several at-home blood pressure monitors in the past and they did well enough for me, however, just recently I completed a more extensive review of wrist blood pressure monitors and found that the Omron 7 series blood pressure monitor was nearly always at the top of other website recommendations.
I ordered my Omron 7 through Amazon.com and received it within seven days. I could have gotten it quicker but I selected the "Free" shipping.
Opening Up my Omron Blood Pressure Wrist Monitor
The first thing I noticed was it had a real sharp packaging. Not that it's a big deal but it looked like quality without even opening up the box.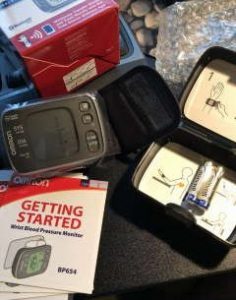 The monitor is enclosed inside a black plastic case which comes inside bubble wrap for extra protection.
There are instruction in three different languages; English, Spanish and French.
I could tell immediately after opening the plastic case, which protects the monitor, that this monitor looked significantly smaller and nicer, in my opinion. My last wrist blood pressure monitor was purchased at a national pharmaceutical chain.
Great! It comes with batteries! I have been disappointed lately with several purchases where the batteries have not been included.
Getting Started Instructions
There is a "Getting Started" manual included that makes it extremely easy to set the time and date. After this it was pretty much touch the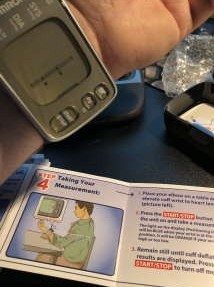 start button and watch it go to work. Well, I did read farther and leaned a few more important things before using it for the first time.
Step 4 in the Getting Started manual has a great graphic about the proper placement of your arm on a table with the recommended vertical location in relationship to your heart. The monitor will display an orange light if it is too high or low and a blue light will come on when the height is in a perfect vertical position with your heart.
There are a few good "Frequently Asked Questions" in the back with one that I really appreciated. It was the under "Other Important Tips" and it recommended sitting quietly for 5 minutes before taking your blood pressure measurement.
There is also a caution note about not eating, exercising, bathing, smoking or drinking alcohol in the 30 minutes prior to taking your blood pressure.
After this there is a notification to register the product and I was taken to the Omron product page. The registration process was quick and easy.
Next, I was asked if I wanted to install the Omron Wellness app on my smart phone, which I did. This was another easy process. It took more time for the app to download than it took me to set myself up as a new user.
I almost forgot to tell you. Omron has some easy to follow instructions about syncing the blood pressure monitor to your smart phone, if you have one. Fortunately I have a smart phone and in no time, my monitor was synced to my phone.
So, now everything was setup and it was time for me to use my new blood pressure monitor for the first time.
My First Blood Pressure Reading with the Omron 7
It was easy and straight forward to get the monitor properly positioned on my wrist. I was surprised as to how quiet the motor was. I could barely hear it, at least in relation to my old blood pressure monitors. It seemed like it only took 30 seconds before I had my first at-home Omron blood pressure check up.

It's been about 5 days since I bought the Omron 7 Series blood pressure monitor and I absolutely love it. I keep it on my desk, right in front of me, so I am easily reminded to check my blood pressure every day.
My doctor asked me to take my blood pressure twice per day, which I am not doing well at. I do take it once a day and now I have 4 readings that can be graphed.
Once the blood pressure monitor finishes, the Omron monitor immediately syncs the current reading to my phone and then the data is displayed in a graph and tabular form. Here is a picture of the reading from my phone.

How cool is this? The Omron 7 monitor is small and easy to store. It is quick to get it out and fitted onto my wrist. The blood pressure test only takes about 30 seconds and my new reading is immediately uploaded to my phone without me having to do anything, other than put the monitor back into it's case.
The positives are numerous and I personally don't see any negatives. The only negative anyone may be able to bring up is the fluctuation in the readings from home to the doctor's office, but that is always going to happen. It's best to take your blood pressure often enough that you understand the difference in the readings and use the Omron monitor to give you an indication if your blood pressure is too high.
The Omron 7 is the Best B.P. Monitor I Have Ever Owned
Like I said earlier, I have had several arm and wrist blood pressure monitors in the past and there is just no comparison between the others and this Omron 7 Series Blood Pressure Monitor.
I'm glad I bought it and I believe you will be just as happy when you get yours delivered to your door.

I hope you enjoyed this review. Please Contact Me if you have any questions about the Omron 7 Series Wrist Blood Pressure Monitor and leave a Comment Below.
If you enjoyed reading this review and you are wondering how you could setup a website and start doing the same thing, then click on the link below and find out how easy it is to do.

Return to Home Page