I have been looking for the best at-home blood pressure monitor and I believe I have finally found it. I probably searched 30 websites with review information plus I talked to my doctor and chiropractor. After researching as much as I had time for, I bought the two blood pressure monitors that kept coming up near the top of everyone's lists.
The Omron 7 Series Wrist Monitor
The Omron 10 Series Upper Arm Monitor
My At-Home Research
Please don't get me wrong. I'm not conducting an extensive "Consumer Reports" style of testing, evaluation and comparisons to all the other brands and models. I am researching slightly more than the average person, I suspect, and then talking to some health professionals, so that at least "I believe" I am on track to locating one of the top blood pressure monitors.
Why is this so important to me? Strokes seem to run in my family and extended family and I have also had a stroke; and when high blood pressure is a top risk factor for strokes…..It ranks at the top of my list of something to watch carefully.
The Omron 7 Series Wrist Blood Pressure Monitor
The first thing I did was to buy the Omron 7 Series monitor. I was attracted to it for the ease of use and portability.
I had heard many negative comments about the accuracy of the Omron 7 but that has not turned out to be true for my units. I am careful to follow the directions explicitly on how to sit and the exact arm placement, etc.
I have taken 20 or so readings over three or four days comparing my blood pressure from the doctor's office to my Omron 7 Series to my new Omron 10 Series monitors and they are all within 5 points of each other. Blood pressure readings are always going to be slightly different but I am ecstatic that the readings are very reliable.

I have decided to keep my Omron 7 Series monitor in my brief case so I can check it no matter where I am. It is roughly four (4) times smaller than the Omron 10 Series. My Omron 10 Series monitor sits on my desk right next to me at all times so I cannot forget to take my blood pressure in the morning and evening every day.
My doctor was extremely happy to hear that I had the Omron 10 monitor and that I was taking the readings daily. He was even more ecstatic when I told him it connects to my smart phone with Bluetooth and then automatically syncs up to the Omron Wellness App, where it then shows tables and graphs of my tests. On top of this, the app uploads the data to the website where I can see the data in even greater detail.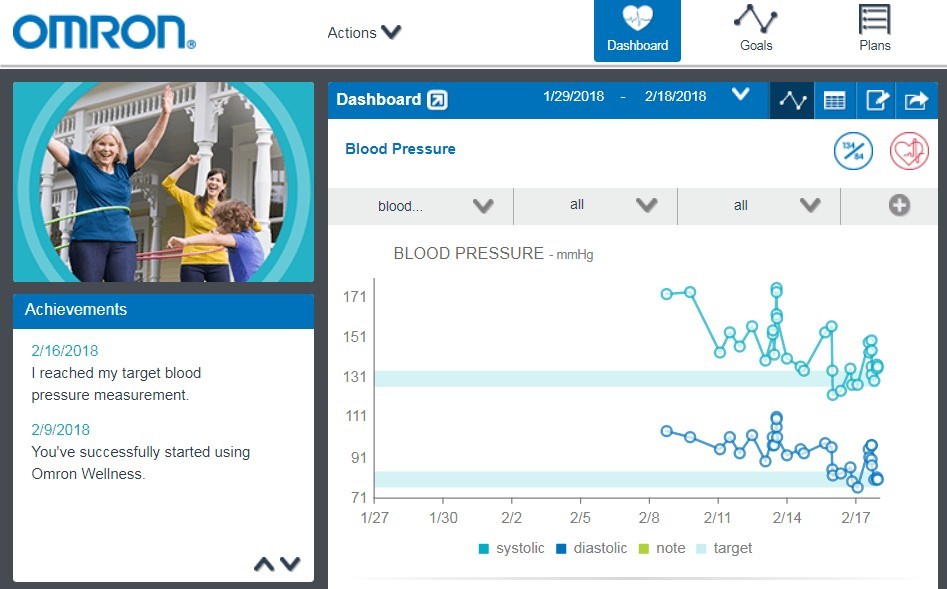 So, enough about the Omron 7 and the Omron website. Let's get on to my new Omron 10 monitor.
The Omron 10 Series Upper Arm Blood Pressure Monitor
Well, here it is. My new Omron 10 Series monitor.
The first thing I recognized again, after seeing both the Omron 7 and the Omron 10, is a visually quality product. I'm not sure yet if the Omron 10 works well, but it sure is a sharp looking blood pressure monitor.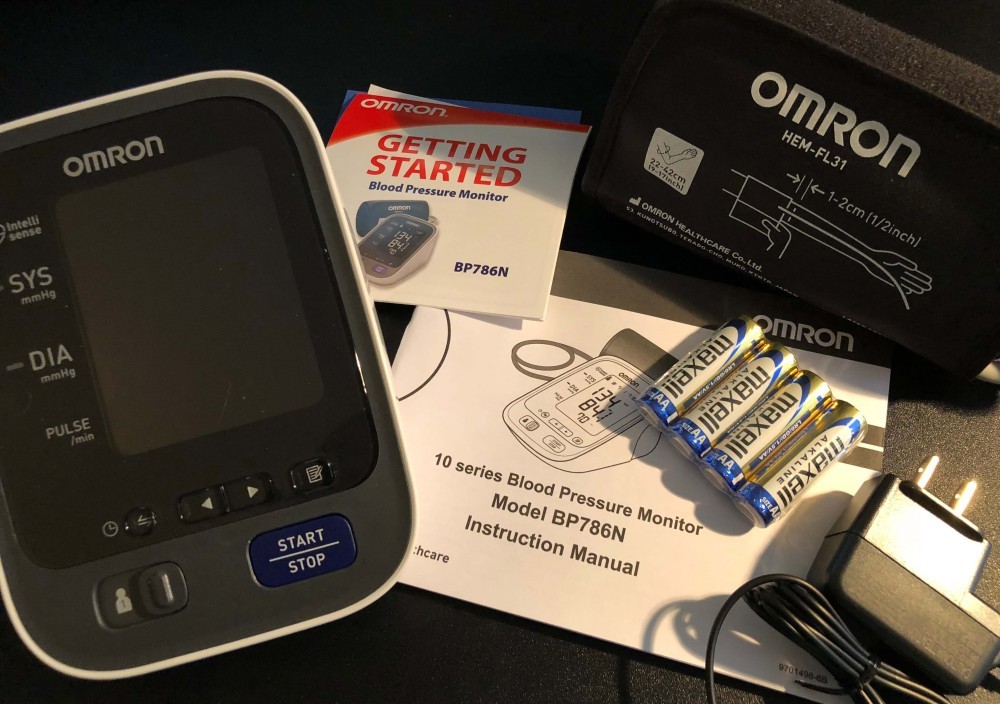 I also noticed right away that it is about 4 times larger than the Omron 7. Once again, I follow the instructions closely and register my new monitor and then sync up the new Omron 10 to the Omron Wellness App. I now have both the Omron 7 and 10 synced up.
It's so easy to set the date and time on both of these monitors that you almost don't even need the instruction.
There is an immediate great feature about the Omron 10 that I love. It has the ability to store blood pressure readings for two people and there is a large and obvious "mechanic" switch on the front that is easy to switch back and forth. Many times you have to switch within the unit by selecting something on the screen but this is so nice as it is a physical switch.
I quickly get everything up and running and it's time to compare the two monitors.
Comparing the Omron 7 to the Omron 10
The obvious difference is the size. By a rough guesstimate, the Omron 10 is about 4 times larger than the Omron 7. It's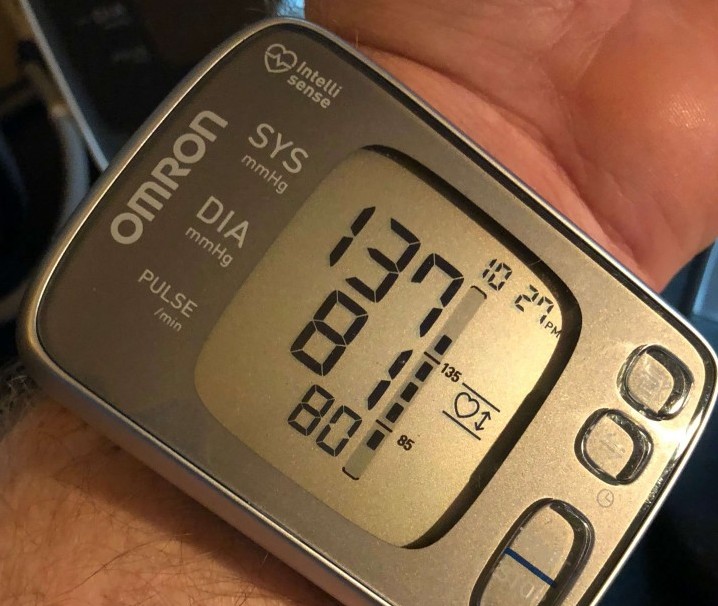 obvious to me that my Omron 7 is my portable blood pressure monitor that will travel with me everywhere.
The display and the setup are very similar but that is not what I'm interested in comparing today. I'm concerned about the consistency between the two monitors as it relates to the blood pressure test and then comparing them to what my blood pressure was at the doctor's office this week.
The results were impressive. Here they are from three different sources:
Doctor's Office – 139 over 89
Omron 7 Series Wrist Monitor – 137 over 81
Omron 10 Series Upper Arm Monitor – 135 over 80
To me, these are almost identical. You always have to take into account who is taking the blood pressure test, are you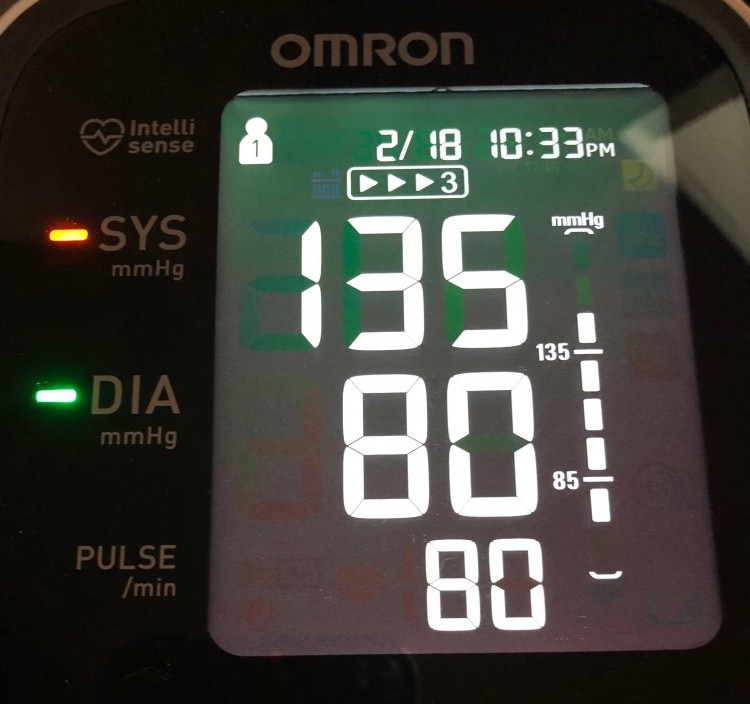 relaxed and in a similar condition, time of day, have you just eaten or worked out, etc.
I did my utmost best to make sure I was in the exact same condition for all three tests, that's why these tests are close enough for me.
My advice to anyone concerned about the accuracy of your monitor(s) is to take the measurements often enough and near the same time as you have your blood pressure taken at the doctor's office so you understand what the differences are. It's important to be able to see changes to your blood pressure and not worry if the readings are off by five points.
The Omron Quality
I have been completely impressed with the quality and accuracy of both of the Omron monitors. Most every review I had seen, listed the Omron monitor's at the top or near the top and when my doctor told me to get an Omron, I just smiled and said, I had beat him to the punch.
These monitors are definitely worth every penny and honestly they don't cost much. Both of my Omron monitors were roughly $60 dollars. I have paid more than that for cheaper stuff at some of the nationwide pharmacy chains and they can't even come close to comparing to the Omron monitors.
So, how did I find the best blood pressure monitor – by research and testing.
I hope you enjoyed this review. Please Contact Me if you have any questions about the Omron Blood Pressure Monitors and leave a Comment Below.
If you think it would be interesting to create your own website and write articles such as this one then I encourage you to take a look at how easy it is to do.
_____________________________________________________
Return to Home Page