Millions of people around the world are asking the question of how can I create a website and even more specifically, how do I create my own website for free? I want to walk you through the process of answering the question.
First, I Need to See What People are Searching for on Google
This is where I use Google Instant to start my research and to get ideas. This is a case where I am already pretty sure of what I want to write about but I still want to see if there are other great ideas I'm not considering.
I start by opening up Google and typing in my first idea for an article which is "How do I Create a Web Page?"

This subject is obviously covered well with 142,000,000 results showing up in just the past week. However, I'm a little belligerent today and decide that I want this to be one of my articles I cover on my web site so I press on to the next step.
The Next Step is I Need a Keyword or Keyword Phrase
I want to walk you through how I will answer the question of creating a website for free but first I need to look for a great keyword or keyword phrase that will catch your attention and draw you to my website so I can answer your question.
I'm going to use Jaaxy to do some important research. Remember this is a valuable part of the process that you really should not ignore.
My first choice to start my search is "how do I create a webpage."

This first guess for a keyword phrase wasn't bad. I'm looking for the Average Traffic to be above 30, the QSR to be below 100 and the SEO to be at least 90. I also notice a few more interesting variations in the list:
how do I create a business facebook page
how do I create a website

how do I create a web page that makes money (shows up in the "Related" column)
how do I create a free website at Wealthy Affiliate (shows up in the "Related" column)
I'm somewhat intrigued by the idea of creating a website at Wealthy Affiliate so I enter that into the search bar.

The first thing that is obvious to me is that I don't like this keyword phrase because it has a really low average traffic and an SEO that is lower than 90. The QSR is ok but this is a "no go" for me.
However, I do like several other related searches that showed up below.
How do you create a free website
How can I create a free website
How do I create my own website for free
How do I create a free website
There are several other search results that I am ignoring because they don't make "human sense." I really like the "How do I Create my Own Website for Free." This has a decent average traffic, a low QSR and a pretty good SEO, so that's what I have chosen for my keyword phrase and the title for this article.

I want to bring your attention to another great thing about Jaaxy and that is the ability to save your searches into "Saved Lists." Several of the searches above I saved into a list and now these are readily available for later use or to compare now in case I was still not sure about what my keyword phrase would be.
I am now confident that I have a great keyword phrase that will give me a better opportunity to get ranked higher in the Google+, Bing and Yahoo search engines.
This is where I need to shift gears slightly and tell you about where I ended up creating my free website. I actually was able to create two free websites to start with and trust me when I say, two is enough to keep you occupied for a long time.
How I Created Two Websites for Free
I initially heard about Wealthy Affiliate from my son and I just knew it was a scam so I started my own research to help protect him.
Now, a little while later, I have created four websites with Wealthy Affiliate and am passionate about what I am doing and I am loving it every day.

So as you know, I started out to protect my son but there was no better way than to start with their "so called" free training. I mean, "how much can you really get for free, right?"
I was shocked that within a few days I had created my first website and had already started setting up my site correctly for the internet search engines. Here is a look at the course outline and everything you will learn in just the first course. Trust me, it's a lot.

Let's just say, by the time I finished the free course I was hooked. I had learned so much and had actually created two websites because I had all of these great ideas about what I wanted to work on. There was no scam to be found here. It's just great training, hard work, determination, a great community and a little patience.
Here are the many things you will achieve after finishing this free course.

Let me just give you a heads up now that I am not the greatest and most knowledgeable website designer and content creator this world has ever seen.
I started building my first website 2 years ago, but I was fortunate enough to come across absolutely incredible training and a community that is knowledgeable, helpful and encouraging.
There is nothing for me to sell here. You need to experience this on your own and you can do that absolutely free.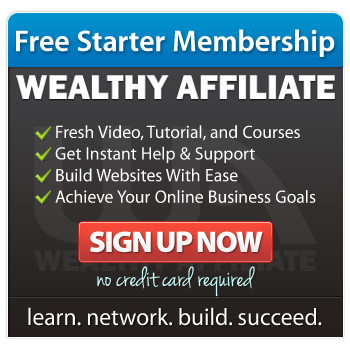 I encourage you to check out my Wealthy Affiliate Review at the link below.
I would love to hear any comments or questions you might have. Please leave them below or send me an Email and I will get back to you quickly.
Return to Home Page