Are you looking for specific keywords and phrases that will help Google rank you higher on the internet? Jaaxy is one of the best keyword search tools on the internet. Enter your keyword below to start your research.

I never start an article without first starting my research on Jaaxy. I don't plug my article with keywords but I do look for a keyword or keyword phrase that will help separate me from the crowd.
Separate Yourself from the Crowd
You may think you have a great keyword, only to find that everyone in the world is writing about it and you'll never get noticed.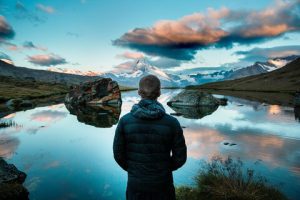 You may also think you have a great keyword but to your surprise, no one searches for it on the internet.
So, what can you do? Are you just going to make a guess at what great keyword may help you get ranked on Google? Is your plan to write so many articles that you'll get lucky at some point?
There's a better option.
Let Me Show You how I use Jaaxy
I wanted to create a website that helps and encourages people to work remotely. So, I had to come up with an idea for my first article. It's part of building up valuable content. Here are the steps I walked through:
1. My thought was to tell you what I learned as I began working from home or working remotely.
2. I decided to focus on "Working at Home."
3. Now it's time to find a great keyword or keyword phrase.
Initially, when you're starting out, you don't want a keyword that everyone is using nor do you want one that no one is looking for.
So, I start typing out keyword phrases on my Site Content writing platform.
I am only brainstorming at this point to refine what I'm going to write about.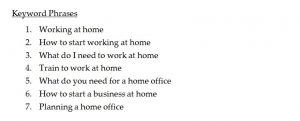 4. Next, it's time to see if any of my keyword phrases meet the criteria I need to get ranked higher on Google.
There needs to be some "average" traffic.
The competition needs to be low.
I don't want something that is the latest craze and everyone is writing about it because, as a newbie to this website creation, I will never see the light of day……unless I get some help.
5. Now is the time I open up Jaaxy and start entering my keyword phrases.
Every time I search for a new keyword phrase, I save it to my "Saved List."
There are some obvious phrases I immediately want to throw out. Most of these are results that yield high numbers of average searches.

6. My last step is to create a document so I can save all of my searches for another day because I know I will get some great ideas for other articles.
I immediately throw out "working at home" and "how to start a business at home." Both of these have high average searches that my article would get lost in.
"How to start working at home" isn't bad but it's average traffic is a little too high for me and the SEO is also too low.
I notice that "planning a home office" looks pretty good but it has a QSR of 143 which is a little higher than I would like.
The ones that stand out to me are:
What do I need to work at home
Train to work at home
What do you need for a home office
Planning a home office
I chose "Train to Work at Home" because the Jaaxy results looked promising, it had a really high SEO and it most closely matched what I wanted to write about.
That's How Easy Jaaxy Is
You just need to come up with an idea for a website, brainstorm on some potential articles, then search for a great keyword or keyword phrases.
Of course, you need to write a great article, but you will be amazed at how much easier it is to create quality content when you have a powerful tool at your fingertips like Jaaxy.
You Can Also Click Here to Go Directly to the Jaaxy Order Page
If creating your own website and online business looks interesting to you than I recommend you check out my Wealthy Affiliate review.

Please leave a Comment Below or Email Me if you have any questions.

Return to Home Page