Product: Logitech MX Master 2S
Weight: 5.1 ounces
Guarantee: 1 Year Limited Warranty
My Rating: 9 out of 10
Logitech MX Master 2S Wireless Mouse – Use on Any Surface, Hyper-Fast Scrolling, Ergonomic Shape, Rechargeable, Control Upto 3 Apple Mac and Windows Computers, Graphite (Discontinued by Manufacturer)
Cross computer control: Game changing capacity to navigate seamlessly on 3 computers, and copy paste text, images, and files from 1 to the other using Logitech flow
Dual connectivity: Use with upto 3 Windows or Mac computers via included Unifying receiver or Bluetooth Smart wireless technology. Gesture button- Yes
Advanced ergonomic design: Perfectly sculpted, hand crafted shape supports your hand and wrist in a comfortable, natural position
Auto shift scrolling: Speed adaptive scroll wheel auto shifts on the fly from click to click to hyper fast scrolling
Rechargable battery: Upto 70 days of power on a single charge
Logitech MX Master 2S, Product Overview
I have compared some of the top wireless computer mouse reviews in 2019, plus I purchased the one I thought was the perfect computer mouse for me and I have not been disappointed in my new Logitech MX Master 2S.

I was hopeful after researching so many computer mouse that I may have found the right wireless mouse for me. As soon as I opened the box I loved the look of my new mouse. It has a great looking shape, nice contouring and a sharp looking design. I was also impressed by its size. I am all about working remotely but that doesn't mean I'm going to use a small mouse.
I have larger hands and I work on graphics software all day, so having a smooth and comfortable mouse is a must.
I have been working with a Logitech M510 for the last 6 years or more and have been really happy with it, but now after using my Logitech MX 510 for over a week, I never want to go back to the M510.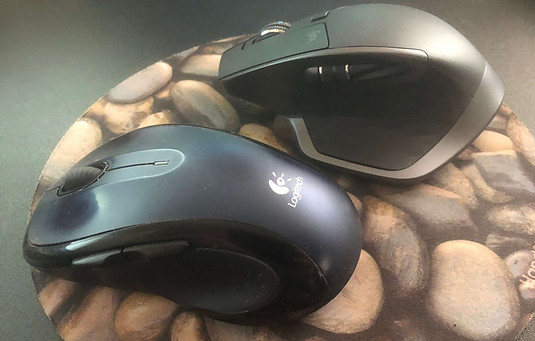 As you can see in the picture above, the Logitech MX Master 2S (in the top of the image) has a significantly different shape which I was wondering if I would like, but it has turned out to be a major improvement.
It's hard to tell from the image but the MX Master 2S is slightly longer, wider and taller than the M510. Some people will prefer a smaller mouse but for many of us who use our mouse a lot and have larger hands, this is a real improvement.
One thing you will notice right away is the thumb rest (which is also thumb button). I'm not sure if that is what Logitech calls it but that is what it is and it is a great addition to the mouse. It helps keep you thumb from dragging against the mouse pad and I'm not sure if that is part of what makes the MX Master 2S move more smoothly than the M510, but it does slide more easily across the mouse pad.

The buttons and the mouse wheel are smooth functioning as well, and the thumb forward and back buttons are perfectly placed.
I have to say that I love this mouse and I absolutely love the look of it. I'm not a huge fan of gray but it is a really cool looking, stylish mouse and I must say that the size of this mouse is perfect for my hand. My hand feels relaxed when I am using it and it surely doesn't feel too large. There have been some smaller mouse that I have experienced a noticeable stress in my hand as I do my best to hold onto the smaller mouse.
Grey is not the only color offered by Logitech in the MX Master 2S. You can buy it in White and Midnight Teal.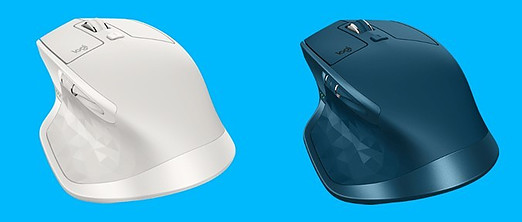 Positives
Shape
Size
Contour
Comfort
Smoothness over mouse pad surface
Works between three computers
Precision
Customization
Rechargeable battery
Negatives
Expensive
Large for some people
Here Are a Few Review Comments From People Who Have Purchased the Logitech MX Master 2S.
Feels great.
It's nice to be able to customize it.
The thumb rest is also a button.
Mouse wheel is louder than expected.
The large grip feels a little weird at first.
Works well on all surfaces.
Experiencing some connectivity issues.
Great on the precision.
I give it 5 stars on comfort.
Conclusion, Logitech MX Master 2S
I have been completely happy with my new Logitech MX Master 2S. I have always thought my M510 was a great mouse but it really doesn't even compare with the MX Master 2S.
The price is higher than what I was used to paying for the M510 but after having them both and understanding the price difference, the Logitech MX Master 2S is worth the extra money.
Check out the Logitech MX Master 2S. Look past the price and after you get it, you will be glad you did.
Logitech MX Master 2S Wireless Mouse – Use on Any Surface, Hyper-Fast Scrolling, Ergonomic Shape, Rechargeable, Control Upto 3 Apple Mac and Windows Computers, Graphite (Discontinued by Manufacturer)
Cross computer control: Game changing capacity to navigate seamlessly on 3 computers, and copy paste text, images, and files from 1 to the other using Logitech flow
Dual connectivity: Use with upto 3 Windows or Mac computers via included Unifying receiver or Bluetooth Smart wireless technology. Gesture button- Yes
Advanced ergonomic design: Perfectly sculpted, hand crafted shape supports your hand and wrist in a comfortable, natural position
Auto shift scrolling: Speed adaptive scroll wheel auto shifts on the fly from click to click to hyper fast scrolling
Rechargable battery: Upto 70 days of power on a single charge
If you would like to see more computer mice options then see my Review of the Top Computer Mice.
I hope you enjoyed this review. Please contact me if you have any questions about the Logitech MX Master 2S and leave a Comment Below or send me an Email.

Return to Home Page